Make the most of your shopping experience by creating
an account. You can:

Access your saved cars on any device.
Receive Price Alert emails when price changes,
new offers become available or a vehicle is sold.



Not registered? click here
New Bentley Flying Spur for Sale – Find Your Dream Car!
The Bentley Flying Spur is a luxury saloon car that combines performance, comfort, and style. This iconic car is known for its powerful engines, advanced technology, and elegant design. The new Bentley Flying Spur continues this legacy with a range of updated features and enhancements that make it one of the finest luxury vehicles on the market today. And if you need any assistance with buying the newbie, Bentley Washington, DC, would be more than happy to help! We are one of the best dealers in Washington, providing all types of assistance and a wide variety of new vehicles. Check our availability or give us a call today for the Flying Spur and similar vehicles.
What To Look For When Purchasing A New Bentley Flying Spur
When buying a Bentley Flying Spur, consider several factors to get a high-quality car that meets your needs and budget. Here are some things to overview when buying a Bentley Flying Spur:
Features
When purchasing a new Bentley Flying Spur, it is important to make sure it has the features and options you desire. From an upgraded and high-quality sound system to advanced safety features, or even a digital cockpit display, there are plenty of luxury amenities available on this vehicle. It's also important to look for other details, such as the exterior and interior trim, paint color options, and even the type of leather upholstery available.
Test Drive

Taking a test drive of the new Bentley Flying Spur is essential when looking to purchase it. During the test drive, you should pay close attention to how the car handles and accelerates, making sure it feels responsive and nimble. Listen to the sound of the engine during acceleration — it should be powerful yet refined. Additionally, take note of how the car performs in various driving conditions, such as on the highway or around town.
Price
It is important to compare prices from different dealerships and private sellers to ensure that you are getting a fair price for the car. Researching online can be beneficial as there are many websites where you can gather information and quotes on the Bentley model you're interested in. Additionally, don't forget to factor in the cost of insurance and other fees associated with purchasing a new vehicle.
Warranty
When purchasing a new Bentley Flying Spur, it is important to consider the warranty that comes with the car. The warranty can provide peace of mind and protection against any unexpected repairs or maintenance issues. So look for a dealership that offers a warranty of at least 3 to 5 years covering several components of the car. So it's important to read over the terms and conditions carefully.
By researching and carefully considering these factors, you can find the perfect new Bentley Flying Spur for sale that meets your needs and fits within your budget. Also, if you are here to buy a pre-owned car, be sure to check the vehicle's credit history. Start your search today and find the perfect Bentley Flying Spur for you.
The Different Features Of The New Bentley Flying Spur
The new Bentley Flying Spur is a luxury car that offers a range of features to provide a comfortable, high-performance driving experience. Here are the features of the new Bentley Flying Spur:
Engine
The new Bentley Flying Spur is powered by a powerful V8 or W12 engine that delivers exceptional acceleration and top speed. The engine features twin-scroll turbochargers, direct injection, and variable displacement for greater efficiency and power. The new Flying Spur Odyssean is now available in a hybrid style for better performance. The Spur also has an advanced air suspension system for improved handling and ride comfort. This combination of features ensures that the Flying Spur is quick and responsive on the road. Its power matches the amazing race cars of today.
Interior

The interior of the Bentley Flying Spur is equally impressive, with a range of comfort and convenience features to make driving enjoyable. The cabin features spacious seating for five passengers with leather upholstery, heated seats, and advanced climate control. There's also a large touchscreen display with intuitive controls and an integrated infotainment system. Additionally, the car has plenty of storage space.
Exterior
The exterior of the new Bentley Flying Spur has a sleek, aerodynamic design that is stylish and functional. With sweeping lines, a low profile, and an impressive stance, the car looks poised and luxurious on the road. The front has a large grille adorned with chrome accents, as well as angular LED headlights that provide excellent visibility. Additionally, the car is available in a variety of colors to suit any taste.
Safety
The new Bentley Flying Spur is equipped with advanced safety features to provide a safe and secure driving experience. The car comes with adaptive cruise control, which automatically adjusts the speed of the car according to the traffic conditions and maintains a safe distance from the vehicles in front.
Additionally, the lane departure warning system will alert you if you veer away from your lane. The car also has blind spot monitoring and rear cross-traffic alert, as well as a collision avoidance system that can automatically brake the car to avoid an accident.
These features make the Flying Spur one of the safest luxury cars, ensuring a safe and enjoyable driving experience no matter where you're headed.
Technology
The car is full of high-tech convenience features such as one-touch power windows. This feature makes it easy to quickly roll down all four windows with just a single touch, giving you and your passengers an open-air feeling as you drive along. Also, the hands-free entry makes it easy to unlock the car without having to reach for your keys.
Different Options Available With The New Bentley Flying Spur
At our dealership, we offer lots of customization options for your new Bentley Flying Spur. With this, you can meet your specific needs and preferences. Here are some of the options available with the new Bentley Flying Spur:
Exterior Color 
The New Bentley Flying Spur offers a variety of exterior color options, including solid, metallic, and dual-tone finishes. The solid colors range from traditional hues such as Arctic White, Onyx Black, and Imperial Blue to more vivid shades like Red, Crystal, and Glacier White. There are also various shades of silver and grey available for those looking for a sleeker look. For an even bolder statement, customers can opt for one of the many two-tone color combinations like Jetstream over Beluga or Camel over Dark Sapphire.
Interior Upholstery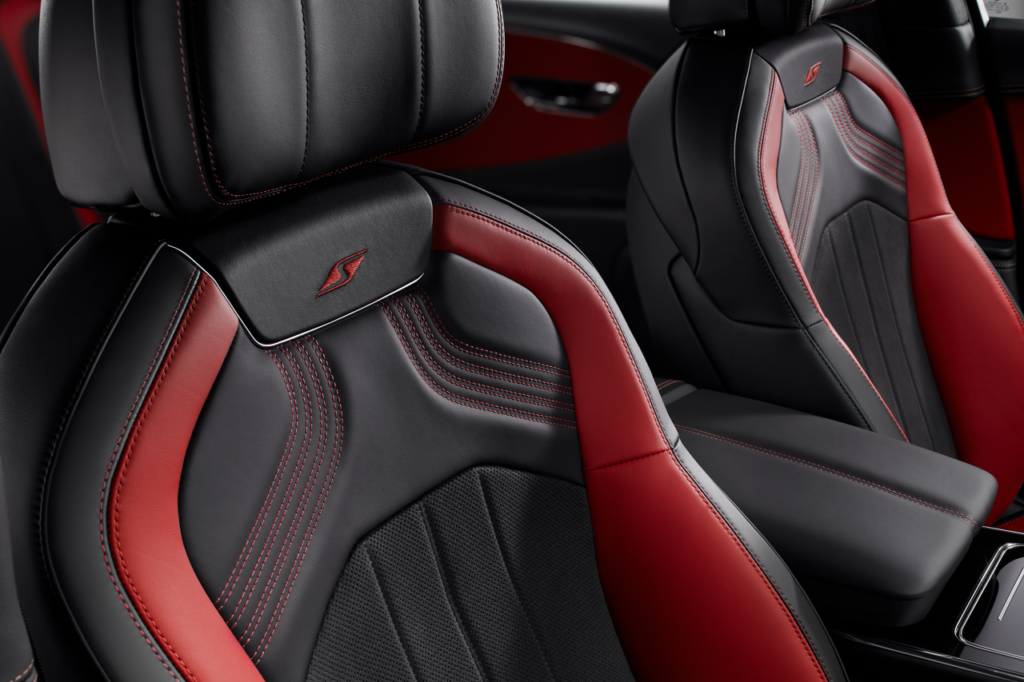 The interior of the New Bentley Flying Spur will provide drivers with a level of sophistication that is unrivaled in its class. Customers can choose from a variety of materials, including Nappa leathers and Alcantara suedes in several different colors and textures. Additionally, they have the option to add contrast stitching to give their car a truly luxurious look. 
Sound System 
The audio system in the New Bentley Flying Spur isn't just loud – it's powerful too! With its 10-channel amplifier system, customers can enjoy crystal clear sound without distortion even when playing at maximum volume levels. The surround sound effect ensures that music sounds natural no matter where you sit in the car. Plus, with Bluetooth connectivity, customers can easily stream their favorite songs wirelessly from their device to the car's audio system. 
Wheels 
Wheels on the New Bentley Flying Spur come in four distinct designs: classic five-spoke alloys; deep dish rims; twin-spoke alloys; and directional five-spoke alloys featuring a sleek diamond cut finish. All wheels come standard with Pirelli performance tires designed specifically to maximize performance while providing excellent grip on any surface. Additionally, customers can choose from several color finishes for an added personal touch that will set them apart from other drivers on the road. 
Exterior Package 
Customers can further customize their New Bentley Flying Spur by selecting one of several exterior packages offered by our dealership. This includes options such as rear spoilers, front, and rear fascia pieces, chrome accents around windows and grilles, as well as unique illuminated door handles, which provide an additional layer of security with fingerprint recognition technology built in!  
Personalization 
For those who want to take their customization even further, there are several personalization options available at our dealership that allow customers to make their car truly one-of-a-kind! This includes bespoke logos emblazoned onto hoods or trunks as well as custom upholstery designs crafted to match individual taste preferences.
Additionally, customers have access to unique features such as special paintwork or adding carbon fiber trim pieces throughout the vehicle's bodywork, giving them complete control over how they want their car to look both inside and out!
How To Finance A New Bentley Flying Spur Purchase
Financing a new Bentley Flying Spur can be a smart and convenient way to make the purchase, allowing you to spread the cost of the car over several years. Here are some of the ways to finance a new Bentley Flying Spur purchase:
Loan
You can go for a loan, credit union, or online lender in order to finance your new Bentley Flying Spur purchase. Loans usually come with fixed interest rates and monthly payments, which makes them an attractive option for those looking to spread out their payments over time. The amount of the loan is determined based on your credit score, income, and other factors.
Leasing
If you don't want the long-term commitment of a loan, leasing is an option to consider when financing your new Bentley Flying Spur purchase. You will pay a specific amount each month for a set period, typically 36 or 48 months, in exchange for having used the car during this time. You will have the option to buy out the car or not from the dealer and start a new lease with another vehicle.
Dealer Financing
Many car dealerships, like our own, offer multiple financing options to help customers purchase the new Bentley Flying Spur. From loans and leases to dealer financing and personalization packages, customers can find the perfect option to help them secure their dream car.
Personal Savings
Paying for the car with personal savings can be a very cost-effective and convenient option if you have the funds available. It saves you from having to pay any interest on a loan or leasing agreement, and you'll also have full ownership of the car as soon as you make the purchase. Plus, it can give you the peace of mind that comes with knowing you won't have to worry about making monthly payments on a car loan or lease.
Bentley Washington, DC, Can Assist You In Discovering More!
At Bentley Washington, DC, we are committed to helping customers find the perfect financing option for their new Bentley Flying Spur purchase. We have a wide range of customized options and inventory of Bentley. Our experienced staff can assist you in finding the best way to make your dream car a reality. With our knowledge and expertise, we will guide you through the entire buying process from start to finish so that you can drive away. So, contact us today and get your luxurious car now!