Make the most of your shopping experience by creating
an account. You can:

Access your saved cars on any device.
Receive Price Alert emails when price changes,
new offers become available or a vehicle is sold.



Not registered? click here
New Bentley Bentayga For Sale: A Unique Luxury Experience
Are you looking for something special to liven up your driving experience? If so, the all-new Bentley Bentayga is precisely what you need. With its new exquisite craftsmanship, powerful engine options, and eye-catching design elements, this fastest SUV provides a unique luxury experience that will turn heads everywhere you go. Whether it be errands around town or long road trips exploring nature's beauty, there's no better way to get behind the wheel than in a Bentley Bentayga.
So ready to jump in and take your driving experience to the next level, visit the Bentley Washington DC dealership. Explore our latest Bentley Bentayaga for sale from V8 to other models, and find the perfect one with flexible financing options and customized plans. Start your journey with the Bentley Bentayga today!

What To Expect When You Buy A New Bentley Bentayga
When you buy a new Bentley Bentayga, you can expect to experience the following:
Unmatched Luxury And Comfort
The Bentley Bentayga is a genuinely luxurious vehicle boasting world-class comfort and sophistication. From the finest leathers to the latest technology and advanced materials, every detail of its design is crafted to provide an exceptional driving experience. With its spacious interior, the Bentayga offers plenty of room for passengers and luggage alike. The adjustable seating ensures that all passengers enjoy a comfortable ride, no matter the length of their journey.
Cutting-Edge Technology
The latest Bentley Bentayga has advanced features such as a digital driver display, a touchscreen infotainment system, and advanced safety features. These features make the Bentley Bentayga one of the market's most technologically advanced and luxurious vehicles.
The digital driver display provides all the information the driver needs, including speed, fuel level, and navigation. The infotainment system allows for seamless connectivity with smartphones and other devices to stay connected while on the road. And the advanced safety features provide peace of mind by actively monitoring your vehicle's surroundings.
Exceptional Performance
The Bentley Bentayga is powered by a potent engine, offering exhilarating performance and handling. It has an advanced 4-wheel drive system for superior traction and a Dynamic Torque Vectoring system that instantaneously distributes torque to all four wheels, improving agility and control. The 8-speed automatic transmission ensures smooth shifting and quick acceleration, while the advanced suspension and braking system provides maximum stability and control.
Distinctive Style
It is one of the most recognizable luxury SUVs on the market, thanks to its sleek and aerodynamic design. Its elegant lines and distinctive details make it stand out from other luxury vehicles. From the exterior, you can see its elegant style with smooth curves and a low-slung profile that gives it an athletic look. Inside, the Bentayga is equally as impressive, with its spacious and luxurious cabin featuring premium materials and exquisite craftsmanship.
Personalization Options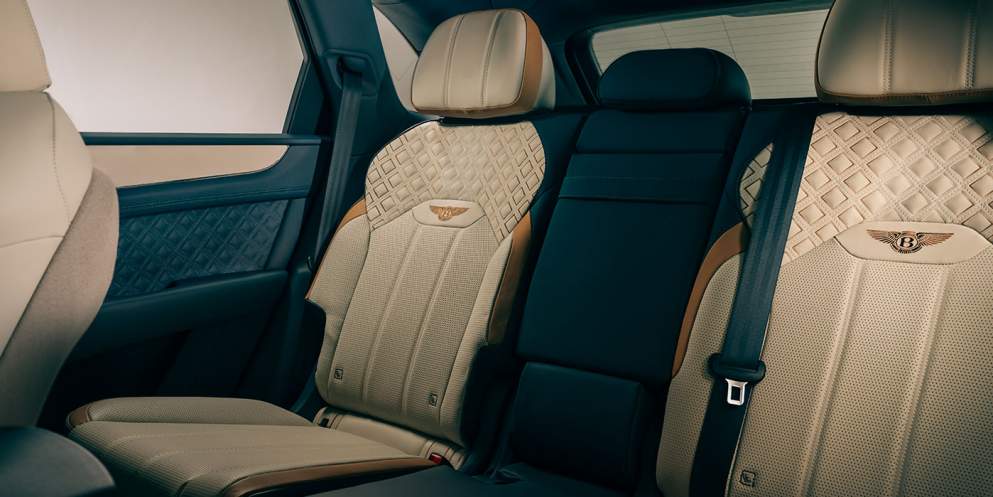 When you buy a new Bentley Bentayga, you can customize and personalize the luxurious vehicle to create a one-of-a-kind experience. With a range of customization options, from exterior styling to interior amenities and performance upgrades, you can make your Bentayga truly unique.
Different Bentley Bentayga Trims In Our Inventory
We have a wide variety of new Bentyaga trims. Some of them are listed below,
Bentayga S

Bentley Bentayga Speed

Bentayga V8
How Much Does The Bentayga Cost?
The luxurious Bentley Bentayga knows no equal in style and performance. With prices ranging from a starting point of around $160,000 to upwards of $250,000 for fully loaded models, the price tag is truly reflective of the power and sophistication this vehicle packs. Enjoy all the features you could ever dream of with the pinnacle of craftsmanship and design that's the trademark of Bentley vehicles. Worth it for those who consider exclusivity and leaving a lasting impression a must.
Explain Customisation Options For The New Bentley Bentayga 
The new Bentley Bentayga offers customization options to tailor your vehicle to create a truly unique driving experience. Especially with our dealership, you can enjoy all customization options for your luxury best car at economical prices.
Interior Options
The interior of the Bentley Bentayga offers a range of customization options to meet individual tastes. Upholstery choices are available in various fabrics and leathers, such as luxurious wool blend, linen interior, soft Nappa leather, and quilted perforated leather. These can be customized with intricate stitching patterns and unique designs tailored to the customer's preference. A range of trim finishes is available, including stainless steel, aluminum, wood, and carbon fiber. Customers can also access a selection of colors for the interior, including classic black and white and bolder shades like pink and red.
Exterior Options

The exterior look of the Bentley Bentayga can also be customized to individual preferences. Customers choose between 40 paint colors, from solid shades to vibrant two-tone blends. In terms of wheel design, customers can select between 20-inch alloy wheels or the more flamboyant 22-inch diamond-cut rims for an eye-catching effect. The light configurations on offer include LED headlamps with optional Matrix Beam technology providing enhanced visibility at night time and signature rear lamps emphasizing the car's sporty silhouette.
Performance Upgrades
The Bentley Bentayga is renowned not just for its refined style but also for its power under the hood. Customers have access to various performance upgrades through engine tuning packages allowing them to enhance their car's performance further, whether it be by increasing engine output or optimizing torque delivery across all speeds. Suspension upgrades are also available, with many customers opting for air suspension, providing increased ride comfort while maintaining superior levels of handling around corners. Finally, due to improved weight distribution amongst all four wheels, customers can take advantage of advanced braking systems that provide better response times when stopping and greater control when cornering.
Safety Features Optimization
Your safety is our priority. You can equip your Bentayga with driver assistance systems such as autonomous emergency braking, a lane departure warning system, and a rear-view camera to ensure you reach your destination safely. Our customization options include active suspension systems that provide an optimal mix of comfort and performance while maintaining passenger safety in harsh road conditions. In addition, you can upgrade your car with unique features such as blind spot monitoring and adaptive cruise control that provide additional protection while driving.
Find Out More With Bentley Washington DC!
If you are curious about buying a new Bentley Bentayga, we encourage you to explore our inventory and schedule a test drive with us today. At Bentley Washington, DC, we pride ourselves on providing an exceptional luxury experience for all our customers. We offer various customization options to help you create the perfect Bentayga for your needs and wants. Our team is also available to answer any questions about this luxury SUV. Contact us online or visit our dealership near Washington, D.C.