For Immediate Release
February 17, 2021
Contact:
Nick Goebel
(248) 767-6276
NGoebel@PerceptionPRLLC.com
Exclusive Automotive Group breaks ground on luxury car dealership in Ashburn
State-of-the-art building will feature second-story showroom visible from Harry Byrd Highway
ASHBURN, VA – On Wednesday, February 17th, Exclusive Automotive Group (EAG), a factory-authorized dealer for Aston Martin, Bentley Motors, Karma Automotive and Koenigsegg, held a groundbreaking ceremony for the start of construction on a fifteen million dollar project to build a state-of-the-art dealership at 45180 Russell Branch Parkway.
EAG's management team, members of the Loudoun County Board of Supervisors, the Chairman of the Loudoun Chamber of Commerce and the presidents of Aston Martin and Bentley Motors were in attendance to kick off the construction process. Remarks were made by Loudoun County Economic Development Executive Director Buddy Rizzer and EAG founding partners Jon Metcalfe and Bill Shawn.
"We are thrilled about our new home in Loudoun County and to become a member of Ashburn's dynamic community," said Bill Shawn, founding partner at Exclusive Automotive Group. "Besides all its great aspects, Loudoun County has also become known for its car culture. As automotive enthusiasts ourselves, we expect our new dealership will become a destination for anyone who shares a passion for world-class exotic and luxury cars."
The facility will have a lot to offer automotive enthusiasts. Features will include a car elevator, a public space between the showrooms that can be utilized for functions and activities along with a catering kitchen, all new state-of-the-art equipment in the service center, charging stations and service space for fully electric vehicles, and a 20,000 square foot, second-story showroom that will be visible to the 77,000 cars that pass by every day on Harry Byrd Highway. EAG hopes the increased visibility will attract fellow car enthusiasts to visit and share their passion for cars.
"Exclusive Automotive Group has always played an active role in the community, welcoming a spectrum of groups – including, and reaching well beyond luxury car enthusiasts – into its home. Breaking ground on what will become the new home of Aston Martin Washington D.C. renews their team's commitment to the people of the D.C. Metro area: come for the sense of community, and stay for the cars," said Ed Moran, Interim President of Aston Martin the Americas. "Much like our own products, EAG's new facility is designed to have a unique, modern design and recognizable identity which reflects the prestige and refinement their customers have come to expect. When completed, it will represent a crown jewel within the Americas and among our global dealer network."
"Luxury car culture in northern Virginia has grown in recent years and it's a strong market for Bentley," added Christophe Georges, Bentley Americas President & Chief Executive Officer. "Exclusive Automotive Group's new dealership will be a destination for luxury car enthusiasts who appreciate the balance of luxury and performance. We are proud to have them represent our brand in the region as we enter our 101st year."
When completed, the 42,000 square foot facility will employ forty people and have space for 18 cars inside and 150 on the lot. Construction is scheduled to be completed in May 2022.
Exclusive Automotive Group is a luxury car dealership owned and operated by automotive enthusiasts. Known for their events and camaraderie with fellow enthusiasts, Exclusive Automotive Group is a destination for people who share a passion for world-class luxury and exotic cars.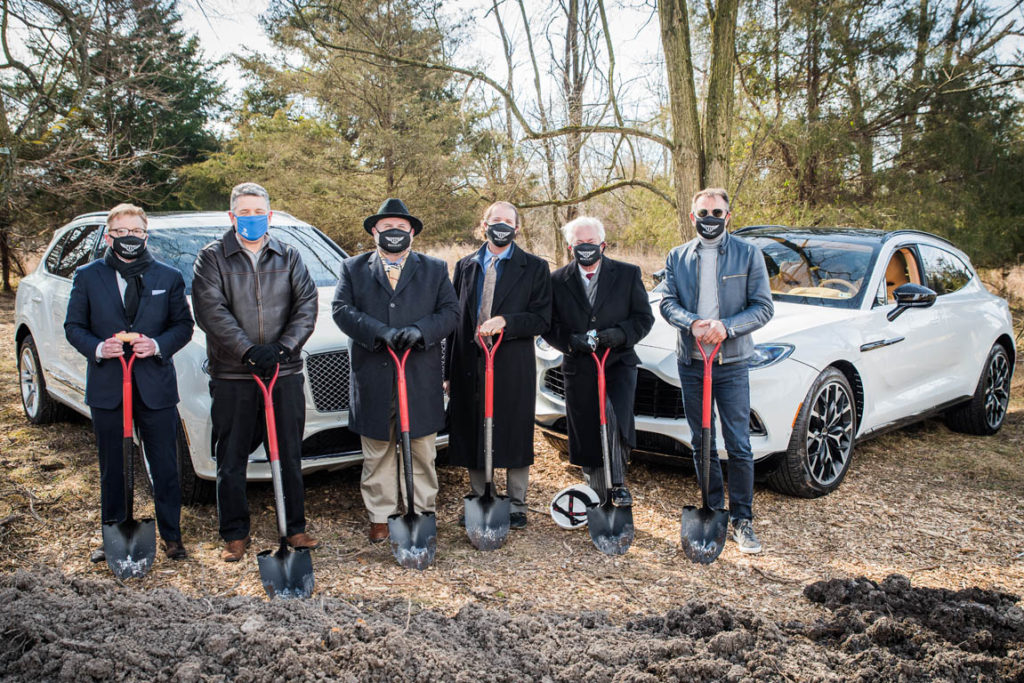 EAG founding partners with Buddy Rizer, Executive Director, Loudoun Virginia Economic Development and Tony Howard, President & CEO, Loudoun Chamber of Commerce