Q&A with Mehdi Soltanian, General Sales Manager at Exclusive Automotive Group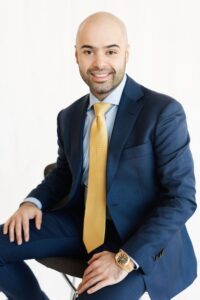 When the General Sales Manager position opened up earlier this year, EAG's management didn't have to look very far. They were seeking a leader who had the experience, drive, skills and personality to take the sales team to the next level. Mehdi Soltanian was a perfect fit. As EAG's Finance Director, Mehdi had built a reputation as a skilled operator who customers enjoyed working with. He took on his new role with gusto and the results speak for themselves. EAG recently broke its monthly sales record. In the Q&A below, Mehdi explains how the sales team operates and the keys to their success.
EAG's sales team is considered one of the best in the industry. What makes them so successful? 
EAG's sales team is made of individual leaders in the automotive industry who set standards for others to follow. Giving them an open platform allows them to explore and think outside of the box. Such innovation gives us the best sales team in the industry.
Since becoming General Sales Manager, what has been the biggest challenge thus far? 
As the team's new coach, I've been humbled to be given the most talented players who are masters of their craft. My primary challenger is to continuously add to their skills every day and allow them individually to outperform their previous benchmark.
What are some changes you made since you became General Sales Manager? 
We've strengthened our internal core as a company and have become closer as an entity. A conglomerate such as Exclusive Automotive Group is the heartbeat of the DMV's automotive excellence. This new energy resonates in the region allowing our clients to lean on us for all their Sales and Servicing.
EAG recently had a record-setting month. What do you attribute that to? 
Our talented staff is exceptional at their individual positions. Understanding everyone's talent is the key to building one of the top automotive firms in the USA. We build on each other's strengths and work as one entity. Combine that with the financial backing of our owners and their decades of experience. That has been the key to our success.
What is the best aspect of EAG's sales team? 
We pride ourselves on building long careers with Exclusive Automotive Group. These long-lasting tenures have made the team a family first and colleagues second. As such, everyone has deep rooted connections with one another, making them super strong as a team.
What is the most important trait you require for each member of your sales team? 
You must promise what you will deliver and deliver what you have promised. When you follow this rule, clients are exceptionally satisfied. And the results speak for themselves.
What excites you most about EAG's future? 
Exclusive Automotive Group's future has the potential for infinite success because of today's decisions. The company's ownership group is supportive to innovative ideas, putting us many years ahead of the competition. Our team is built on young and fierce energy allowing us to rush forward. Combine that with financial backing and you are left with a platform that will service the clients beyond their imaginable dreams.
What do you enjoy the most about your position as General Sales Manager? 
Satisfaction of our shareholders, exceeding our employee's happiness to have the lowest turnover ratio in the industry, and the smiles of our clients when they leave with their dream car. That is the heartbeat of my passion for this position. I attribute the joy of my position to those three elements. As long as they are met on a daily basis, my heart is filled with love and joy.