Make the most of your shopping experience by creating
an account. You can:

Access your saved cars on any device.
Receive Price Alert emails when price changes,
new offers become available or a vehicle is sold.



Not registered? click here
2022 Bentley Continental GT: The Ultimate Luxury Sports Car
The 2022 Bentley Continental GT is the epitome of luxury and performance, full of touring specifications. This sports car is a true masterpiece, combining the latest in technology, top speed, innovative design, and engineering. The new Continental GT is the third generation of Bentley's iconic grand tourer, and it's better than ever. Here, take a look at the 2022 Bentley Continental GT and what makes it a true standout in the luxury sports car market.
What Sets It Apart From Other Luxury Cars On The Market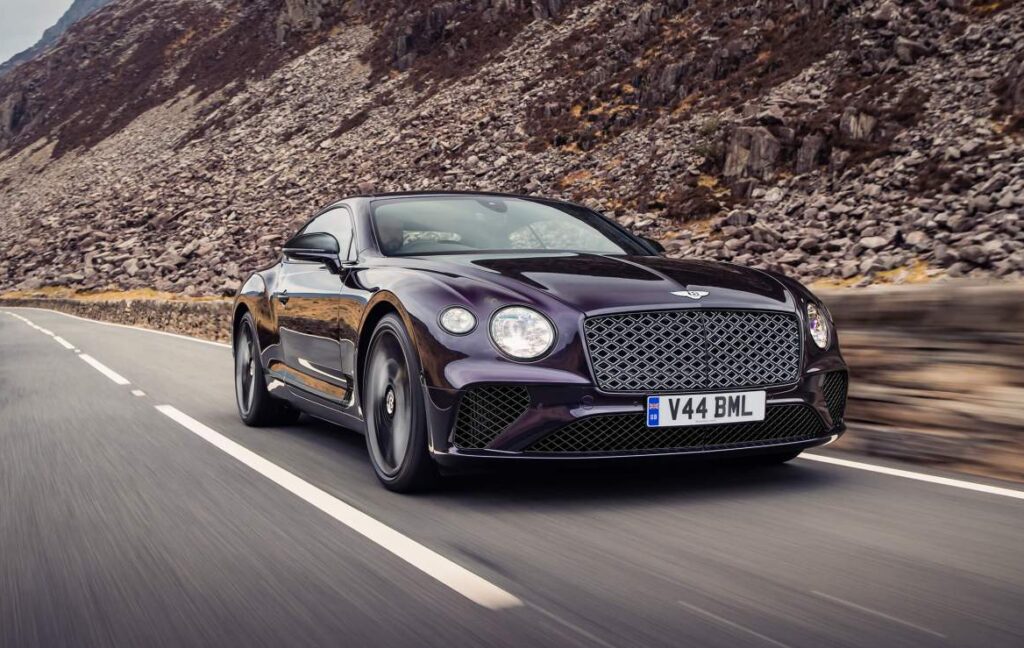 The 2022 Bentley Continental GT sets itself apart from other luxury cars on the market in several key ways:
Power And Performance
With a 6.0-liter W12 engine that delivers 626 horsepower and 664 lb-ft of torque, the Continental GT is one of the most powerful and capable luxury sports cars with 15 mpg combined fuel economy. The car's all-wheel-drive system and advanced suspension provide excellent handling and stability, making it a joy to drive. Along with this, the Speed variant of GT has an electronic limited-slip differential that helps to adjust the torque and power between the rear wheels for better traction and control.
Craftsmanship And Design
The Continental GT is renowned for its exceptional craftsmanship and attention to detail. The car's interior is handcrafted using the finest materials, such as leather and wood, creating a warm and inviting atmosphere in the cabin. The exterior design is bold and aggressive, making the Continental GT a true standout on the road.
Technology And Innovation
The 2022 Continental GT is equipped with the latest in infotainment and safety technology, including a large touchscreen display, Bentley rotating display, Apple CarPlay, Android Auto integration, a premium sound system, a rearview mirror, and advanced safety features.
Heritage And Reputation
Bentley has been a leader in the luxury car market for over a century and has a long history of producing exceptional vehicles. The Continental GT is part of this legacy, and its reputation for quality and performance is unmatched in the market.
Why The Bentley Continental GT Is Perfect For Luxury Events Or Long Drives
The Bentley Continental GT is the perfect car for luxury events or long drives for several reasons:
Comfort And Style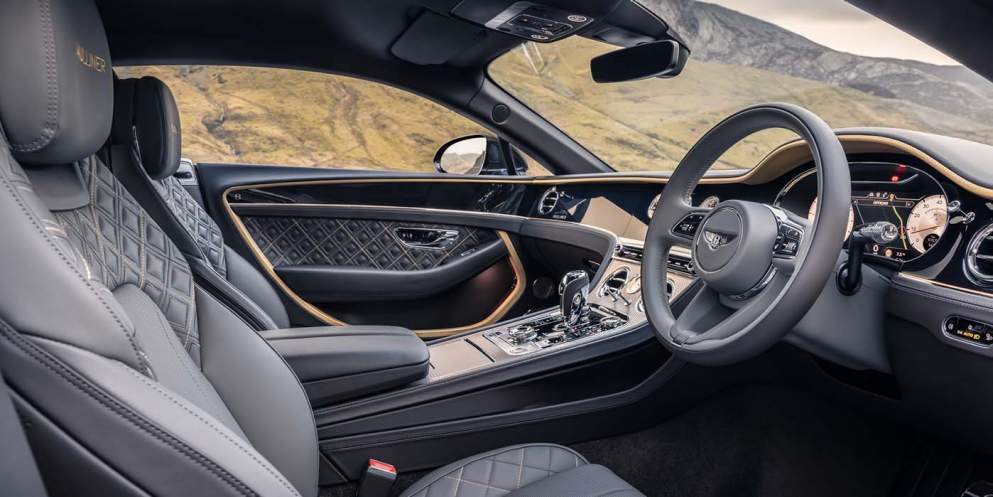 The interior of the Continental GT is designed with luxury and comfort in mind, featuring handcrafted leather and wood accents, a spacious and well-appointed cabin, and a range of premium amenities, such as a premium sound system and advanced infotainment technology. The car's sleek and aerodynamic exterior design also makes it a standout at any event.
Safety And Security
The 2022 Continental GT is equipped with the latest in safety and security technology, including ADS, such as adaptive cruise control and lane departure warning, as well as a 360-degree camera and automatic emergency braking, helping to keep you safe on the road.
Versatility
The Continental GT is a versatile car that can handle a variety of driving scenarios, from a leisurely drive to a high-performance sports car. Whether you're driving to a luxury event or on a long road trip, the Continental GT provides the perfect combination of comfort, performance, and technology.
How It Differs From The 2020 Model
The 2022 Bentley Continental GT is an updated version of the 2020 model, and have the key differences between the two:
Strength And Efficiency
The 2022 Bentley Continental GT is truly a force to be reckoned with, boasting an unstoppable 626 horsepower engine and unwavering 664 lb-ft of torque. While its 2020 predecessor stood formidable in these regards, the new model raises the bar even higher thanks to finely tuned suspension and all-wheel drive technology that makes driving as smooth as ever.
Improved Technology
Driving gets even more luxurious in 2022 than in the 2020 GT. At your fingertips are a plethora of advanced features – an expansive touchscreen display for smooth navigation, voice-activated infotainment with Apple CarPlay and Android Auto integration to stay connected on the go, plus a premium sound system that'll make each drive feel like it's straight out of paradise.
Interior Features Of Bentley Continental GT
The 2022 Bentley Continental GT is a luxury sports car that features an exceptional combination of refined interior and updated comfort as compared to its predecessors. Here are some of the key features:
High-Quality Materials
The Bentley Continental GT is the epitome of luxury and comfort. Its renowned craftsmanship is seen throughout its interior, with each aspect contributing to a driving environment that is second to none. Plush soft leather upholstery combined with brushed aluminum and piano black accents give this car an indulgent feel, offering the ultimate escape from ordinary life. The fine selection of wood veneers provides a touch of sophistication and class to complete the experience. With these premium materials, you can rest assured that your ride in the Bentley Continental GT will be one of consistent quality and superior comfort.
Added Innovation And Creativity
With the luxurious Bentley Continental GT, you can have confidence on the road thanks to its advanced driver-assist features to help keep you safe while driving. Enjoy an unparalleled experience with the latest infotainment technology, including a vivid 16″ touchscreen display, powerful sound system, and superior navigation system. All of these additions will ensure that your drive is comfortable and stress-free – it's like having a personal assistant going along for the ride.
Comfortable Seats
The front seats of the Continental GT are power-adjustable, offering an impressive range of comfort and support to ensure that drivers of all sizes can enjoy a comfortable ride. The driver's seat is ergonomically designed to accommodate both taller and shorter drivers, with adjustable lumbar support for added comfort. The intelligent memory rear seat function remembers the last seating position for the ultimate convenience.
Climate Control System
It is equipped with a dual-zone climate control system for personalized comfort, allowing passengers to set their preferred temperature settings and enjoy an ideal environment on any journey. The air ionizer also helps to reduce odors and airborne irritants, providing a fresher cabin atmosphere.
The Sleek But Robust Exterior

The 2022 Bentley Continental GT exterior is enough to make any driver stand out from the crowd.
Sleek Design
The 2022 Bentley Continental GT is a sleek and elegant car, combining aerodynamic body panels with beautiful curves and lines. Whether you're cruising down the highway or parked in front of a restaurant, this model will turn heads with its classic yet modern style.
Refreshed Front And Rear Ends
The stunning Bentley Continental GT, an iconic grand touring automobile, has just been updated with modern touches to its front and rear. Sharp new bumpers and grilles are complemented by sleek lights, creating a bold and sleek look that's sure to impress. With this facelift, the Continental GT remains a beauty from any angle – both in looks and performance!
Bright Colors
The 2022 Bentley Continental GT is available in an array of bright and bold exterior colors, allowing drivers the opportunity to customize their cars to reflect their individual styles. Racing Green evokes a vintage feel with its subtle style, while Dark Sapphire creates a timeless and sophisticated look. Candy Red provides a vibrant and energetic burst of color for those looking for something that stands out from the crowd. Whether you choose Racing Green, Dark Sapphire, or Candy Red, each color will be sure to make a bold statement.
Get The Upgraded Bentley In Your Garage Today
With Bentley Washington, DC, you can find the best selection of Bentley Continental GT models at unbeatable prices. We offer a range of new and pre-owned cars, making it easier for you to find your dream car. 
Would you like to have a GT Mulliner, GT Azure, Bentley Continental GT Speed, or GT V8? We deal in all trims. Along with amazing options in the inventory, we also have financial ease to suit your budget, as luxury cars have hefty price tags. So, visit us today and take a test drive in one of our exceptional vehicles!