Make the most of your shopping experience by creating
an account. You can:

Access your saved cars on any device.
Receive Price Alert emails when price changes,
new offers become available or a vehicle is sold.



Not registered? click here
The 2021 Flying Spur for Sale: A Perfect Blend of Luxury and Performance
The 2021 Bentley Flying Spur is a luxury sedan with a powerful engine and advanced technological features. It offers a spacious and comfortable interior with premium materials and customizable options. The car is known for its elegant design, refined driving experience, and prestigious brand image. With its unique combination of luxury and performance, the Bentley Flying Spur is perfect for those who want to make a statement.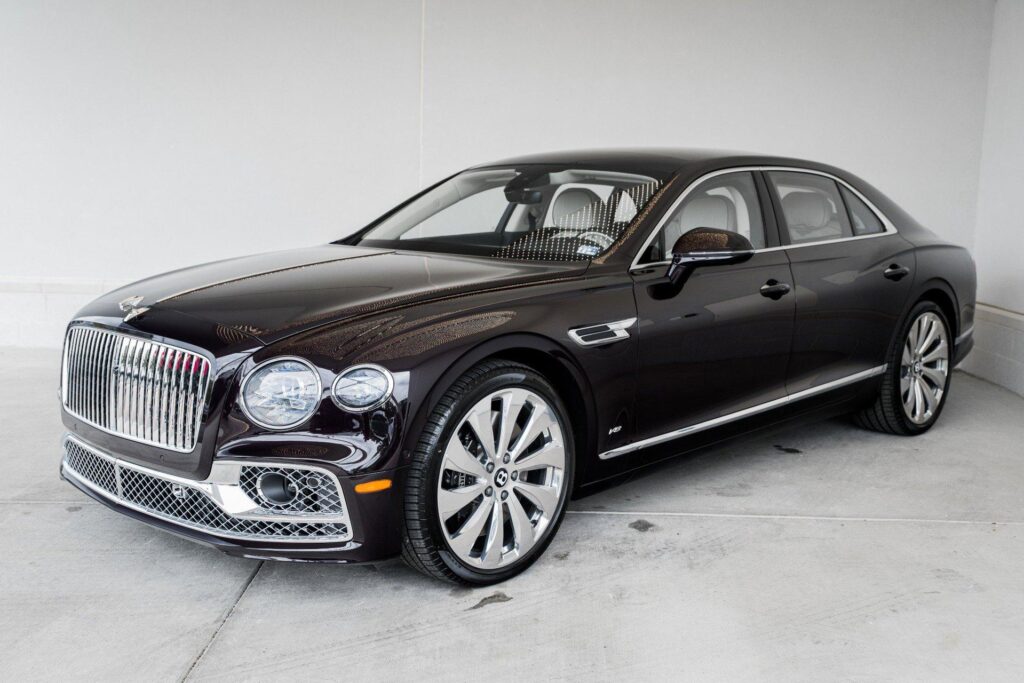 Let's take a look at the qualities of this car and why it would make an excellent choice for buyers!
Engine Performance of the 2021 Bentley Flying Spur V8
When it comes to performance, the Bentley Flying Spur has a powerful engine with top-of-the-line specs. It is equipped with the following performance options:
Engine –

6.0-liter W12 engine with twin-scroll turbochargers

Horsepower –

626 hp at 6,000 rpm

Torque –

664 lb-ft @ 1,350-4,500 rpm

Transmission –

8-speed dual-clutch automatic

Acceleration –

0-60 mph in 3.7 seconds

Top Speed –

207 mph

Fuel Economy –

17 combined mpg,

15 miles per gallon city, and 20 mpg highway

Drive Type –

All-wheel drive (AWD)

Suspension –

Four-corner air suspension with continuous damping control

Brakes –

16.5-inch front and 15.0-inch rear disc brakes with Bentley-branded calipers
Sleek Exterior of the 2021 Flying Spur
The exterior of the used 2021 Bentley Flying Spur features a sleek and stylish design that looks sophisticated and luxurious. Have a look at the following exterior features:
Design
The 2021 Bentley Flying Spur is a four-door sedan that features a sleek, sloping roofline and sharp lines for an impressive look. Its prominent grille, bold headlights, and contoured body make it stand out from other cars on the road. Chrome covers the headlight clusters up front and the taillights at the back to give the car a more luxurious look.
Wheels and Tires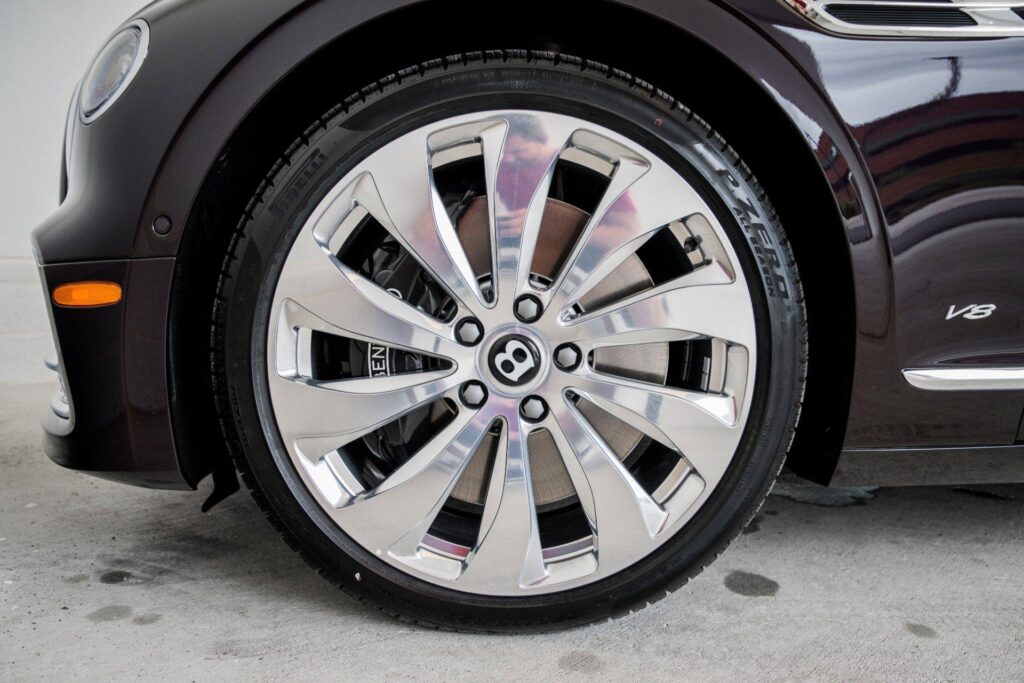 The car comes with standard 20-inch five-spoke alloy wheels, but you can upgrade to 22-inch five-spoke alloy wheels if desired. The high-performance Pirelli P Zero tires offer superior grip on the road.
Dimensions
The Flying Spur is a sight with its sleek and stylish exterior design. Measuring 208.9 inches in length, 77.9 inches in width, and 58.4 inches in height, the car has an impressive wheelbase of 125.8 inches and a curb weight of around 5,500 pounds. This unique size makes it a great choice for families and those who want to make a statement.
Range of Colors
The 2021 Bentley Flying Spur is available in 17 exterior colors, each offering its own unique style and sophistication. Choose from classic shades such as Beluga, Glacier White, and Anthracite or make a statement with bold hues like Dragon Red, Cobalt Blue, and Orange Flame. For added exclusivity, you can choose from three two-tone options. There's also an optional exterior styling package for a more personalized look.
Panoramic Roof
It features a panoramic sunroof that seamlessly spans the length of the roof. It is made from durable and scratch-resistant glass, allowing maximum natural light to enter the cabin while providing superior insulation and soundproofing. With an overall width of 4 feet, this impressive feature provides passengers with uninterrupted views of their surroundings.
Aerodynamics
It has an impressive aerodynamic design that helps it achieve a low drag coefficient of 0.28. This low coefficient helps the car become more fuel efficient and reduces wind noise at higher speeds. The low coefficient is due to the car's sleek exterior design, sloping roofline, sharp lines, and prominent grille, all of which contribute to its aerodynamic performance.
Luxurious Interior of the 2021 Flying Spur 
When you get inside the 2021 Bentley Flying Spur, you'll find a luxurious, well-made cabin. Here's a look at some of the features that come standard:
Leather Upholstery
The Flying Spur's interior is made of high-quality leather to give it a high-end feel. It also has an option for perforated leather seats, which are more comfortable and let in more air on long trips. There's also an available diamond pattern stitched into the leather for a more elegant look.
Spacious
The car's cabin is big, with plenty of room for passengers in the front and back. It can seat up to five people comfortably, and the rear seats can be equipped with features like heating, ventilation, and massage functions. There's also an ample 16.7 cubic foot trunk that provides plenty of space for luggage and other items.
Dashboard Technology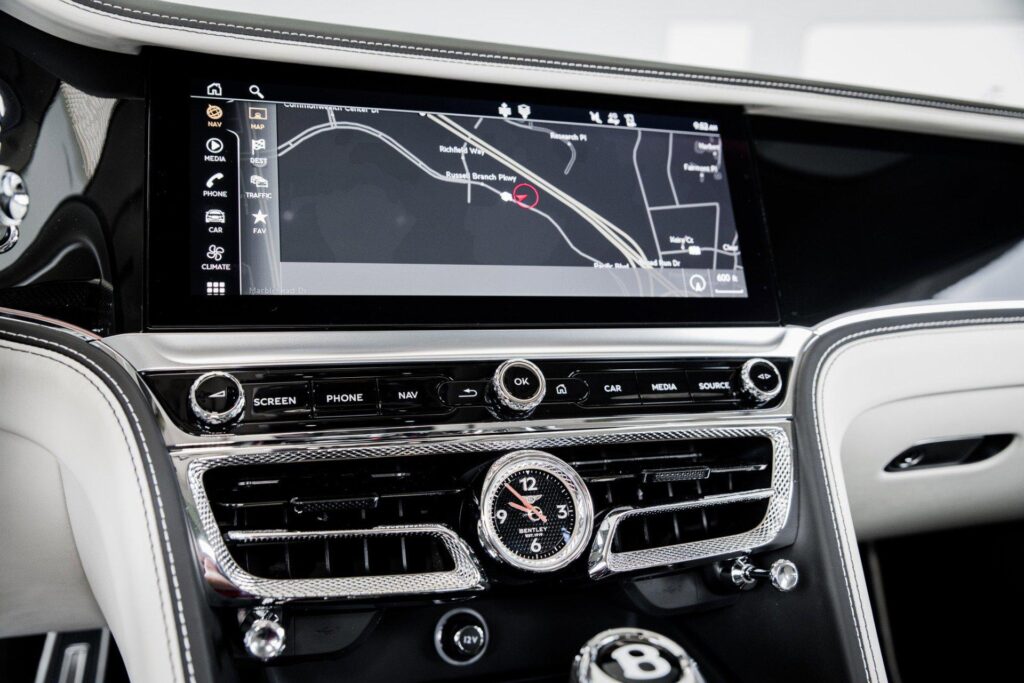 The dashboard is equipped with the latest infotainment system from Bentley, which includes an 8-inch touchscreen display, HD radio, Bluetooth connectivity, and Apple CarPlay and Android Auto compatibility. It also has several driver-assist features, such as adaptive cruise control, lane-keeping assist, a backup camera, and blind spot monitoring, to help make your journey safer.
Interior Trim
It features an exquisite range of wood veneers, aluminum trims, and carbon fiber accents. Each trim is designed and crafted to perfection, giving you plenty of options to personalize your vehicle's interior to match your individual style.
Infotainment System
The Flying Spur has a state-of-the-art infotainment system with a 12.3-inch touchscreen display and an optional Naim audio system. You can also connect to the internet through Wi-Fi or Bluetooth, which gives you access to many online services and apps.
Ambient Interior Lighting
The 2021 Bentley Flying Spur has a sophisticated interior lighting system called "ambient lighting" that can be changed to create a wide range of different settings and moods. The color temperature of the interior lighting can be changed from warm to cool, and you can choose from up to 10 different colors, such as green, blue, red, and yellow. You can also change how bright the lights around you are to set the right mood for your drive.
Maintenance Tips for Your Bentley to Ensure Long Vehicle Life
The 2021 Bentley Flying Spur is a high-end car that needs regular care and maintenance to last for a long time. Here are some tips for taking good care of your car after purchasing it:
Follow the Manufacturer's Maintenance Schedule
Following the manufacturer's recommended maintenance schedule for your Bentley Flying Spur is important. This will ensure that all parts are functioning correctly and that potential issues can be caught early before they become serious problems.
Get Regular Oil Changes
Oil changes help keep your engine running smoothly and efficiently. Make sure to get regular oil changes for your Bentley Flying Spur and use the manufacturer-recommended oil to ensure your engine gets the best possible care.
Check Your Tires Regularly
The tires on your vehicle are one of its most important components, as they provide traction and stability while driving. Make sure to check your tires regularly for wear and tear and make sure they are properly inflated.
Perform Regular Visual Inspections
Along with following the manufacturer's maintenance schedule, it is important to do regular visual inspections of your Bentley Flying Spur. This will help you find any problems early and save you money on expensive repairs in the future. Check for signs of rust or corrosion and any other signs of wear and tear.
Keep the Car Clean
Cleaning the outside and inside of the car regularly is important to keep it looking good and prevent damage. Use high-quality cleaning products and avoid abrasive materials that could scratch the paint or upholstery.
Monitor Fluid Levels
To make sure your Bentley Flying Spur runs at its best, you need to check the oil, coolant, brake fluid, and other fluid levels on a regular basis. It is recommended to use high-quality fluids specifically produced and recommended by Bentley. The oil should be changed every 5,000 miles or six months, relying on how often you drive your car.
Drive the Car Regularly
Driving your Bentley Flying Spur regularly helps keep all components in good working order. While you may not be able to go for long drives every day, try to take it out for short trips around town at least once or twice a week. This will help ensure that all systems are functioning properly and your car is ready for longer trips.
Address any Issues Promptly
If you notice any signs of a problem with your Bentley Flying Spur, it is important to address the issue promptly. Take it in for repairs to avoid additional damage and costly repairs. It is also essential to take note of any warning lights that come on while driving so you can address them right away.
Following these tips will help you keep your Bentley Flying Spur running strong and looking great for many years to come. Take advantage of Bentley lease specials from Bentley Washington DC to get a fantastic deal on your next personal vehicle purchase. At our location, you can get access to the availability of vehicle history and the best affordable price!
Get Your Hands on a 2021 Flying Spur Right Now!
If you are looking for a luxurious, reliable, and well-crafted car, the 2021 Bentley Flying Spur is a perfect choice. Enjoy all the features this car offers, and get your hands on it today!
Explore Bentley's pre-owned inventory and take advantage of their great lease pricing specials. With proper care, your vehicle will last you for many years. Enjoy the ride and make lasting memories!