Make the most of your shopping experience by creating
an account. You can:

Access your saved cars on any device.
Receive Price Alert emails when price changes,
new offers become available or a vehicle is sold.



Not registered? click here
2021 Bentley Bentayga Hybrid: The Best SUV for the Environment
The 2021 Bentley Bentayga Hybrid is the perfect combination of luxury and sustainability. This powerful hybrid SUV offers a unique driving experience combining environmental responsibility, superior performance, and refined craftsmanship. From its advanced powertrain to its luxurious interior, this vehicle has been designed to meet the needs of discerning car buyers who want an eco-friendly ride without sacrificing comfort or style. With its cutting-edge engineering and exquisite design elements, the Bentley Bentayga is sure to be one of the most sought-after vehicles on the market today.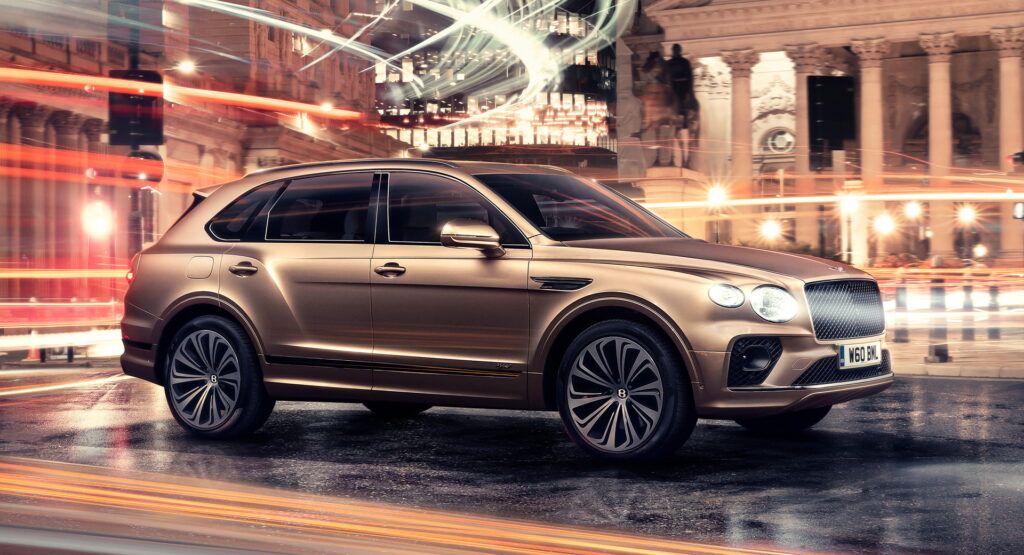 Key Features Of The 2021 Bentayga Hybrid
The 2021 Bentley Bentayga Hybrid is packed with features that make it more efficient and powerful than ever before.
Hybrid Powertrain
The Bentayga Hybrid's powertrain consists of a turbocharged 3.0-liter V6 engine and an electric motor that produces a total of 455 horsepower and 516 lb.-ft. of torque. This combination allows the SUV to switch between gasoline and electric power seamlessly, enabling EV mode to get up to 31 miles per gallon on the highway.
The advanced control system manages the interaction between the gasoline engine and electric motor, optimizing the Bentayga effectively and full performance of the powertrain. The result is a vehicle that offers better fuel economy, lower emissions, and improved traction control.
Driving Performance
The 2021 Bentayga Hybrid mode provides an incredibly quick and responsive driving experience. With its advanced powertrain and impressive acceleration from 0-60 mph in just 5.2 seconds, this vehicle is sure to get you where you need to be quickly and efficiently.
The advanced suspension system provides a smooth and comfortable ride. It also comes with four-wheel drive and dynamic torque vectoring, giving you better handling on any terrain.
Technology
The Bentayga Hybrid is equipped with an advanced infotainment system that offers a range of features and connectivity options. With its intuitive user interface and powerful hardware, the system provides a superior driving experience.
The large touchscreen display offers various entertainment options, including streaming audio and video, online apps, navigation, and more. The vehicle also comes with a Wi-Fi hotspot, Bluetooth connectivity, and Apple CarPlay and Android Auto integration for easy access to your favorite smartphone apps.
Bentayga conventional Hybrid has a range of driver assistance technologies to ensure optimal safety and convenience while on the road. It comes with advanced adaptive cruise control, which uses sensors to measure the distance between it and the vehicle ahead and adjust its speed accordingly. The brake assist helps keep you safe in traffic, allowing you to drive with peace of mind.
Environmentally Friendly
The Bentayga Hybrid luxury SUV is an environmentally friendly option that reduces your carbon footprint. Its advanced driving modes use a combination of gasoline and electric power to ensure optimal fuel efficiency, helping you save on fuel costs while reducing emissions. This system automatically switches between the two engine types depending on the driving conditions, providing maximum performance and efficiency.
Interior And Exterior Design Features Of 2021 Bentayga Hybrid
The 2021 Bentley Bentayga Hybrid has a sleek and modern exterior design featuring distinct lines and curves that make it stand out in any setting.
Interior Design

The 2021 Bentayga Hybrid offers a luxurious interior with premium materials such as fine leather, wood, and metals. It provides plenty of room for passengers and cargo alike. The spacious interior cabin has comfortable seating for up to five passengers with a heated steering wheel. There is also plenty of legroom and headroom, allowing everyone to stretch out and enjoy the ride. The rear seats can recline up to 45 degrees, providing even more comfort for those longer trips.
The interior also features advanced tech features, such as a large touchscreen infotainment system, Apple CarPlay and Android Auto integration, Wi-Fi hotspot, Bluetooth connectivity, and much more. This allows seat comfort specification no matter where the road takes you.
Exterior Design
The 2021 Bentley Bentayga Hybrid has a sleek and aerodynamic body style, crafted with distinctive design cues that are unique to the brand. This vehicle stands out on the road with its sharp lines and curves, giving it a modern and luxurious appeal. The exterior also features advanced lighting technology, such as LED headlights and taillights that provide superior visibility.
The Bentayga Hybrid comes in various exterior colors, including classic shades such as Glacier White and Black Crystal and modern shades such as Cyber Yellow and Royal Blue. Select from a range of wheel designs to give your vehicle an added touch of sophistication.
This Hybrid also has various wheel options, allowing you to customize your vehicle's look. With sizes ranging from 20-22 inches, you can choose from designs that range from sleek and modern to classic and timeless. The wheels are crafted using robust materials such as aluminum alloy and stainless steel, ensuring strength and durability while providing a touch of elegance to your vehicle.
Personalization Options
The 2021 Bentley Bentayga Hybrid offers a wide range of customizable interior and exterior color combinations that allow you to personalize your vehicle to match your style. Several upholstery and trim options are available, ranging from classic leather to modern fabrics, so you can find an interior aesthetic that fits your needs. You can also select wood and metal accents, giving your vehicle a unique look.
The Bentayga Hybrid also comes with an array of accessories that you can choose from to customize your ride further. You can add exterior styling options such as wheel arch extensions, carbon fiber splitter trims for a sporty look, or interior updates such as leather-trimmed interior door handles or carpets for a luxurious touch.
Craftsmanship
Bentley's master craftsmen expertly craft the 2021 Bentley Bentayga Hybrid with fine attention to detail and unparalleled quality. The design of the Bentayga Hybrid has been carefully engineered to meet the highest standards of luxury and performance while providing a superior driving experience.
The exterior features a sleek, aerodynamic design, advanced lighting systems, and luxurious styling cues. The interior is crafted with premium materials such as fine leather, wood, and metals, providing plenty of room for passengers and cargo alike.
The Cost Of Owning A Bentley Bentayga Hybrid
The 2021 Bentley Bentayga Hybrid is an expensive car to own and maintain. The base model starts at around USD 1,50,000 to USD 2,50,000, depending on the trim level you choose. Additionally, various taxes and fees will be added to the total cost of ownership.
Purchase Price
The 2021 Bentley Bentayga Hybrid starts at around $160,000, making it one of the most expensive SUVs on the market. You can customize your vehicle with various options, such as a panoramic sunroof and 4-zone climate control, which can add thousands of dollars to the cost.
Fuel Costs
The 2021 Bentley Bentayga Hybrid offers improved fuel efficiency compared to non-hybrid models, enabling drivers to save money on gas costs. The Bentayga Hybrid combines a gasoline engine with an electric motor for enhanced performance and better fuel economy thanks to its advanced hybrid powertrain system. This powertrain offers higher levels of torque for an even better driving experience and lower emissions for an environmentally friendly ride. 
Maintenance Costs
The maintenance costs of owning a 2021 Bentley Bentayga Hybrid can vary depending on how often you drive and the condition of your vehicle. You will need to factor in regular oil changes, tire rotations, and other scheduled maintenance visits throughout the life of your vehicle. Additionally, certain repairs that may be needed as the vehicle ages can add to the overall cost of ownership.
Insurance Costs
The Bentley Bentayga Hybrid insurance costs will be higher than other SUVs due to its high purchase price and advanced technology. However, you can lower the insurance costs of your Bentayga Hybrid by taking advantage of various discounts and safety features such as anti-theft devices. 
Resale Value
The 2021 Bentley Bentayga Hybrid is an investment in luxury, performance, and resale value. Its advanced hybrid powertrain provides improved fuel efficiency while delivering superior torque for a better driving experience – all contributing to its high potential of retaining its worth when the time comes to resell it.
Bentley DC Will Take You on More Adventures!
At Bentley DC, we are dedicated to helping you find the perfect 2021 Bentley Bentayga Hybrid that meets your needs and budget. Our experienced team of luxury car experts can guide you through all the options available so you can make an informed decision. We offer competitive financing solutions so you can enjoy the thrill of owning a Bentley without breaking the bank.