Make the most of your shopping experience by creating
an account. You can:

Access your saved cars on any device.
Receive Price Alert emails when price changes,
new offers become available or a vehicle is sold.



Not registered? click here
Power, Performance, and Prestige: The 2020 Flying Spur for Sale
Bentley Motors produces the 2020 Bentley Flying Spur, a luxury sedan. It features a powerful W12 engine with an automatic transmission. The interior is luxurious and spacious, with premium materials and advanced technology. The car also boasts advanced safety features, making it a top choice for those seeking performance and safety. This luxurious and powerful sedan is available for sale at a competitive price. It offers the prestige of owning a Bentley.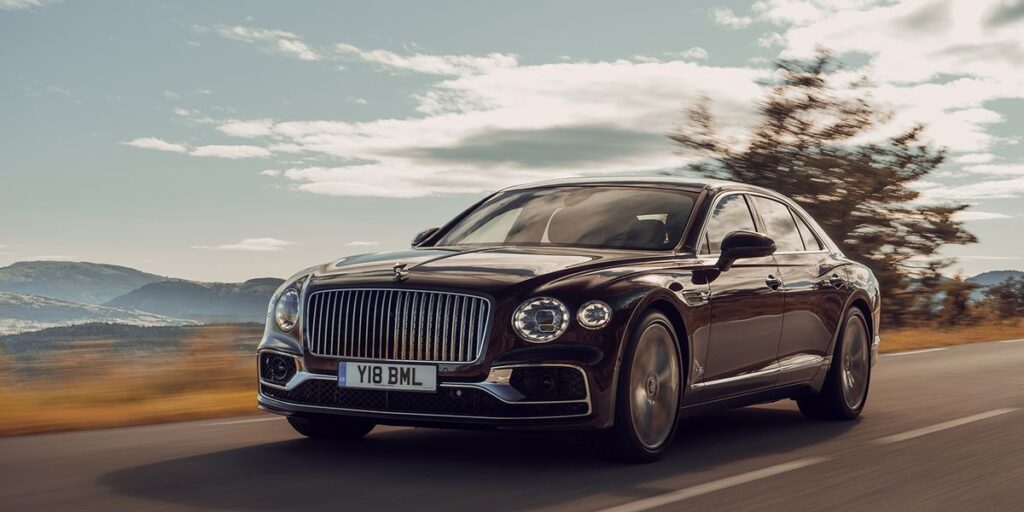 Whether you're looking for performance, power, or prestige, the 2020 Bentley Flying Spur will impress. Take your driving adventure to the next level with this iconic luxury vehicle today!
What's New: What's the Difference Between the Flying Spur 2020 and 2019?
Compared to the 2019 Flying Spur, the 2020 Flying Spur has been redesigned and has a lot of new features and updates. Here are some of the contrasts between the two:
Exterior Design
The 2020 Flying Spur has a bold, modern exterior design with a head-up display that will turn heads everywhere. The vehicle features an enlarged grille with black mesh, a more prominent Bentley badge, and sharper lines for a more dynamic look. The car also sports signature LED headlights, a full-width rear lamp bar, and body-colored side skirts for a more striking presence.
While the 2019 Bentley Flying Spur is also stylish and luxurious, the 2020 model has a more eye-catching design.
Interior Design
The 2020 Flying Spur has an even nicer interior than before, with high-quality materials used everywhere. The dashboard has a beautiful center console with dark wood trim, diamond-shaped seat stitching, and LED lighting that goes from bright to dim. The vehicle has a heated steering wheel with three spokes and an advanced infotainment system.
The interior of the 2019 Flying Spur is also very nice, but the 2020 model has better materials and more advanced technology to make it more comfortable and easy to use.
Engine Performance
The 2020 Flying Spur has a redesigned 6.0-liter W12 engine with 626 horsepower and 664 lb-ft of torque. The car has an 8-speed automatic transmission with dual clutch technology for quick, smooth shifting. While the 2019 Flying Spur is powered by a 567-horsepower V8 engine, the 2020 model offers more power and performance.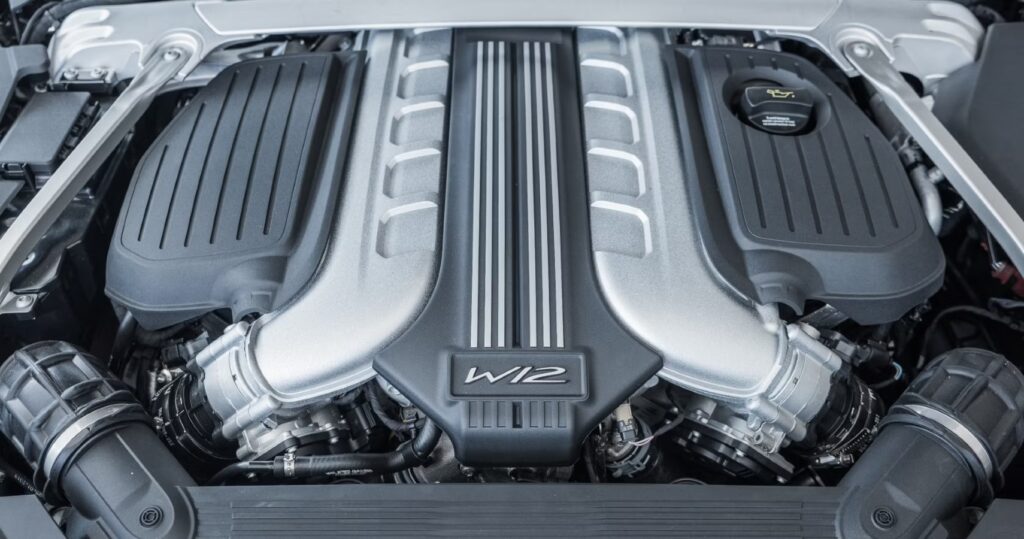 Technology
The 2020 Flying Spur features advanced technology features such as a Night Vision system, which uses infrared cameras to detect objects in the dark up to 150 meters away, allowing drivers to see pedestrians and potential hazards more clearly. The Traffic Assist feature uses advanced navigation systems, traffic information databases, a backup camera, and a blind spot monitor to provide real-time routing guidance and traffic warnings, reducing road stress. Additionally, the car has a 12.3-inch touchscreen infotainment system with an intuitive user interface and enhanced voice recognition capabilities.
The 2019 Bentley Flying Spur also has high-tech features that have been updated and made better for the 2020 model. This makes the car easier to use and safer.
Driving Dynamics
The 2020 Flying Spur is more comfortable, stable, and easy to drive than the 2019 model. It also handles better. The car's suspension has been improved to make the ride smoother and quieter, and its all-wheel-drive system gives it more grip and control when the roads are wet or icy. Also, the W12 engine with electronic stability control has been tweaked to make the car go faster and use less gas.
High-Rated Performance Specifications
The 2020 Bentley Flying Spur is one of the most luxurious cars on the market, and its impressive specifications make it a top choice for those searching for the ultimate driving experience. Some of the car's top features include:
Engine –

6.0-liter W12

Horsepower –

626 hp.

Torque –

664 lb-ft

Maximum speed –

207 mph (333 km/h).

Acceleration –

0-60 mph in 3.7 seconds; 0-100 km/h in 3.8 seconds.

Transmission –

Eight-speed automatic

Drivetrain –

All-wheel drive

Fuel economy –

12 mpg city, 19 mpg highway (U.S.)

Brakes –

Front and rear ventilated disc brakes

Suspension –

Four-corner air suspension with continuous damping control.
Safety Features and Ratings of the 2020 Bentley Flying Spur
The used 2020 Bentley Flying Spur has a lot of safety features to keep the driver and other people in the car safe. Here are some of the notable safety features of the 2020 Flying Spur:
Forward Collision Warning
The 2020 Flying Spur has a Forward Collision Warning (FCW) system, which combines radar and camera sensors to detect potential collisions. When the system detects an imminent collision, it alerts the driver with a visual and audio warning. The FCW system can even automatically apply brakes when necessary to prevent or reduce the severity of a collision.
Adaptive Cruise Control 
The car also has an adaptive cruise control (ACC) system that changes the speed of the car based on how busy the road is. Sensors in the ACC system look for things in front of and behind the car. It can automatically reduce speed to maintain a safe distance from other vehicles.
Lane Departure Warning 
The 2020 Flying Spur is equipped with a Lane Departure Warning (LDW) system, which uses a camera and sensors to detect when the vehicle drifts out of its lane. When the LDW system detects lane drift, it alerts the driver with visual warnings and audio beeps.
Night Vision
The Night Vision system in the 2020 Flying Spur is one of the most advanced on the market. It uses infrared cameras to detect objects up to 150 meters away in near darkness, giving drivers greater visibility when driving at night or in low-light conditions. The system can identify pedestrians and potential hazards, such as road debris and animals, allowing drivers to adjust their speed or route accordingly.
Safety Rating
The 2020 Flying Spur has earned a five-star safety rating from Euro NCAP, an independent organization that evaluates vehicle safety. The car scored well on all tests and achieved the highest possible score for adult occupant protection. This demonstrates its commitment to providing drivers with top-notch safety features and technologies.
Should You Buy the 2020 Bentley Flying Spur?
The 2020 Flying Spur is a powerful, luxurious, technologically advanced car with an unbeatable driving experience. Its safety ratings and impressive performance specs make it ideal for those looking for luxury, comfort, and security. Whether you're looking for a car for business trips or just cruising around town, the 2020 Flying Spur should be at the top of your list. It's worth considering if you're looking for a top-notch luxury car.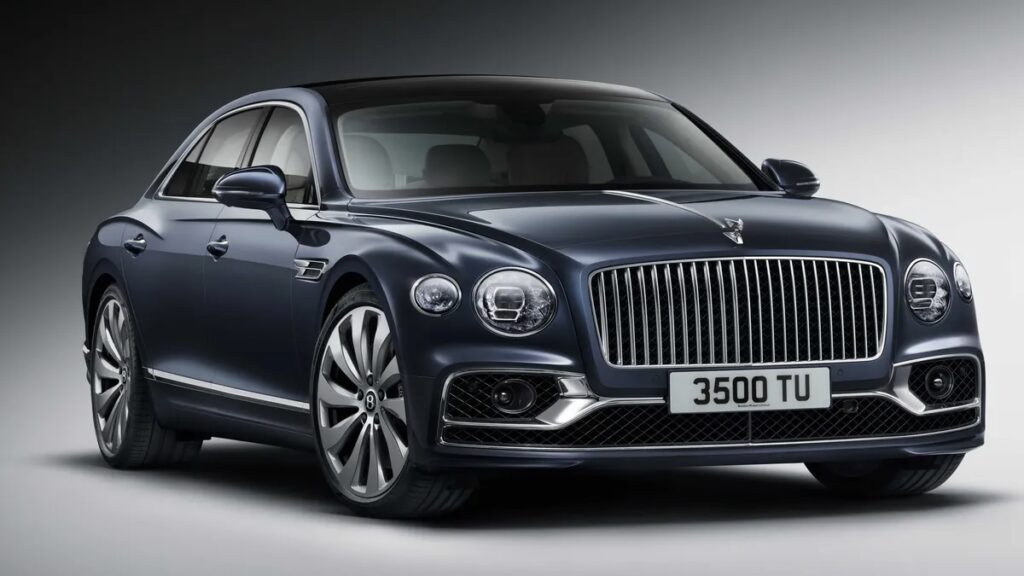 You can get financing for the 2020 Flying Spur at competitive rates, so don't hesitate to reach out and get started on your purchase today. With its impressive features and unbeatable performance, you won't regret buying this car. So why wait? Get behind the wheel of a 2020 Flying Spur today and experience luxury like never before.
Visit the Bentley Washington DC Dealership for the Best Buying Experience!
The team at the Bentley dealership in Washington, DC, gives the best customer service and has the best prices on 2020 Flying Spur cars. The dealership also offers a wide selection of new and used Bentley vehicles. Whether you're looking for a Flying Spur or another model, their expert staff can help you find the perfect car. Visit now and take advantage of our special pricing!