Make the most of your shopping experience by creating
an account. You can:

Access your saved cars on any device.
Receive Price Alert emails when price changes,
new offers become available or a vehicle is sold.



Not registered? click here
2020 Bentley Continental GT Convertible For Sale – Buyer's Guide
If you're one of the lucky few in the market for a thrilling luxury car that screams class, power, and prestige, look no further than this 2020 Bentley Continental GT Convertible on sale at Bentley Washington, DC. With its incomparable design, impressive performance capabilities, and modern technology feature built-in to provide you with an unforgettable driving experience every time, it's no wonder why so many people want one of these bad boys. Our inventory is full of Bentley cars so you can pick up the litter. Enjoy the best dealership ever.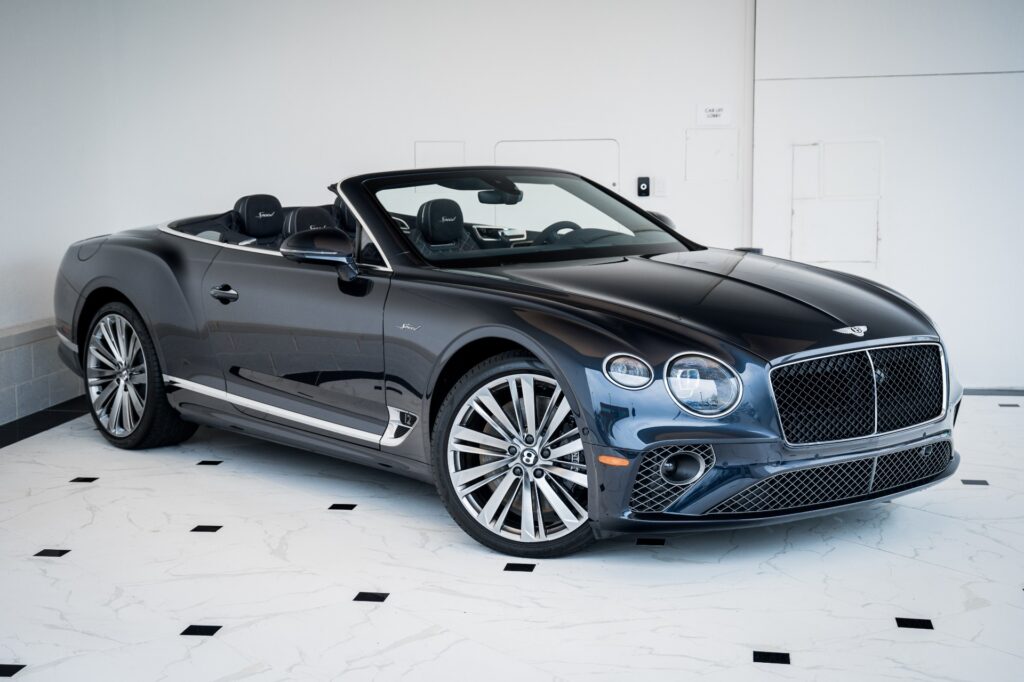 Reverently Restyled: The Bentley
Bentley Motors was founded in 1919 by Walter Owen Bentley, passionate about creating powerful and luxurious vehicles. The company originated in England and quickly became an iconic British brand, producing motorcars renowned for their elegant styling and exceptional performance. Throughout its history, Bentley has earned the reputation of being one of the leading luxury car manufacturers in the world.
The 2020 Bentley Continental GT Convertible is no exception, with its blend of performance and style that can't be matched. The first edition is an unmistakable symbol of luxury; it has earned a highly distinguished reputation since its launch as part of the brand's rebirth – blending performance and style like no other convertible or coupe on the market today. With opulent interior amenities galore plus drop-dead gorgeous exterior styling, you won't easily find something that comes close in sheer brilliance.
Under The Hood- Bentley Continental GT Convertible 
Unleash your inner speedster in luxury with the Bentley Continental GT V8. It promises top-level performance, offering an 8-speed automatic gasoline transmission to deliver 542 horsepower and a massive 626 lb-ft of torque from its 4.0L V8 or 6.0L W12 engine options – no matter which you pick, you're ready for powerful acceleration.
Independent Suspension
With Continental GT Convertible, expect a ride like no other – thanks to its fully independent suspension with air springs. An available adaptive system further enhances your journey by automatically adjusting the suspension based on conditions and your preferred driving mode. Experience refined comfort like never before.
Stability And Traction
Experience the exhilaration of driving with the power, stability, and poise that comes with the Continental GT Convertible. This sleek and stylish convertible is loaded with a wide variety of state-of-the-art handling and traction technologies, ensuring you enjoy a confident drive no matter the conditions. With an all-wheel drive system paired with superior electronic stability control and surefooted traction control, the Continental GT Convertible helps you master any track or terrain in style.
Fuel Economy
The Bentley Continental GT features a roomy 23.8-gallon fuel tank that allows drivers to journey long distances easily. Fortunately, this power-packed car is also pretty easy on the pocketbook regarding gas mileage, with an EPA-estimated city/highway MPG of 16/26 and an impressive combined MPG of 19. The range in miles (city/highway) is 380.8/618.8, meaning you can explore far and wide without worrying about needing to fill up frequently. Premium unleaded gasoline is the only type compatible with the vehicle's engine, so keep stocked up for incredible drives ahead.
Highly Advanced Tech Vehicle
Technology features of the 2020 Bentley Continental GT Convertible include,
Infotainment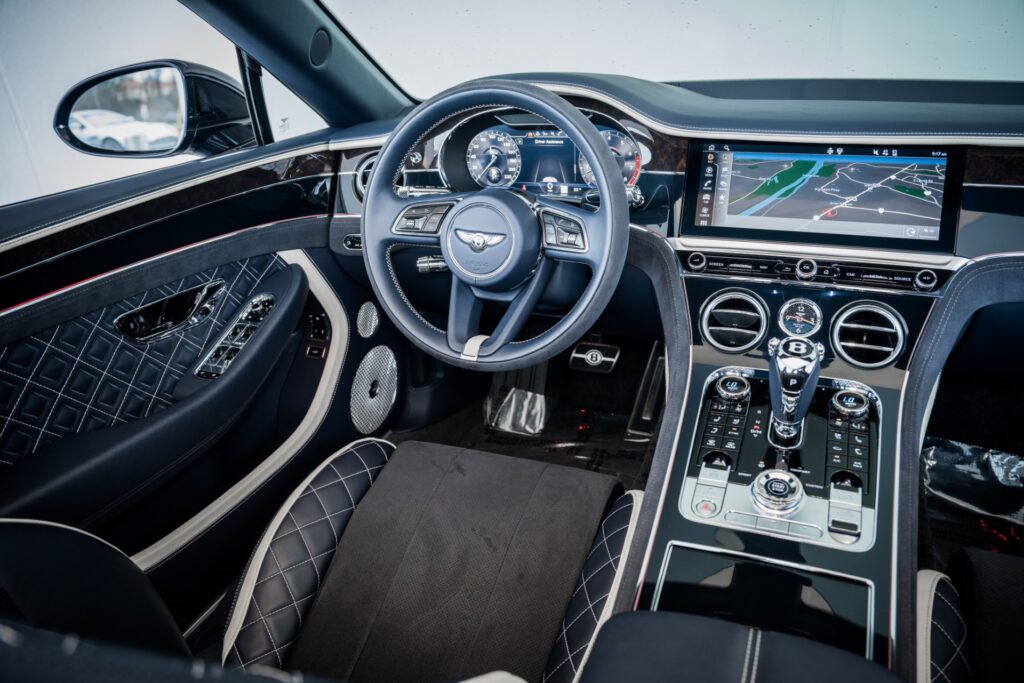 With just a press, you can transform your 12.3-inch touchscreen dashboard into three handcrafted analog gauges to ensure ultimate control and monitoring over every drive, no matter how long or short it may be. It's easy: A rotating display gives access to speed readings, engine temperature checks, and fuel levels so that each ride is tailored to perfection. The system also has Bluetooth connectivity, so you can easily sync your phone or another device for hands-free calling and music streaming. And for even more convenience, the Continental GT Convertible also offers a Wi-Fi hotspot for connected devices.
Innovative Power Features
Sit back and relax with the Bentley Continental GT Convertible's conveniently powerful features. With its easy-to-use one-touch power windows, hands-free entry system, and keyless ignition, you'll enjoy effortless driving every time. On top of that, the iconic Bentley craftsmanship is there, too; when you drive a Continental GT Convertible, you'll have access to all of the luxuries of a Bentley and none of the hassle.
Feel Like Home- A Comfy And Spacious Seating
Don't sacrifice style for sustainability when you have the versatile Bentley Continental GT Convertible. With a selection of luxurious hand-finished hide colors and traditional high gloss veneers in various wood species, you will surely find an unforgettable design that fits your tastes. Don't want to choose between beauty and sustainability? No problem! Select engine-turned shades or light carbon fiber to make a statement of contemporary style while prioritizing eco-friendly materials. With a heated steering wheel, leather seats, backup camera, and other such specs, the car is surely a great investment to make.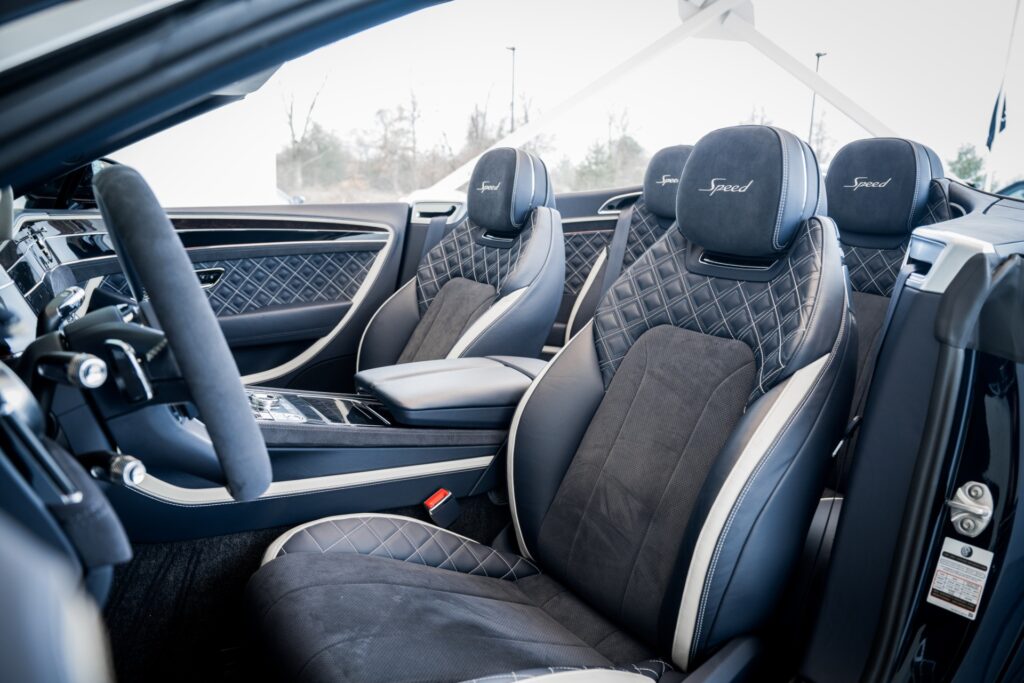 Adequate Capacity
With ample legroom and headroom for four passengers, an impressive 8.3 cubic feet of cargo space, and a turning circle of only 37.8 feet, the Bentley Continental GT Convertible is a truly great car. Plus, since it has a maximum payload of 1,025 lbs., you can load up your gear comfortably and go on the road. With its luxuriously spacious interior and great performance stats, this gorgeous vehicle is sure to turn heads wherever you drive it.
Designed With Precision And Care – The Body Style
Feel you cruise down smooth open roads with elegance and power. The Bentley Continental GT Convertible provides an ultimate grand tourer experience, boasting curvaceous lines that let sleek aluminum panels flow seamlessly from front to rear – creating a muscular silhouette ready for your next adventure.
Dimensions
Style and performance meet in the 2020 Bentley Continental GT Convertible: an awe-inspiring car designed to impress. With luxurious exterior dimensions – 190.9″, 86.1″ overall width with mirrors, 55.1" height, 1122 wheelbase—this grand touring car combines power and poise for that perfect ride every time you hit the road! Whether driving through town or cruising down the highway, this beautifully crafted vehicle will turn heads along your journey.
Strong Alloy wheels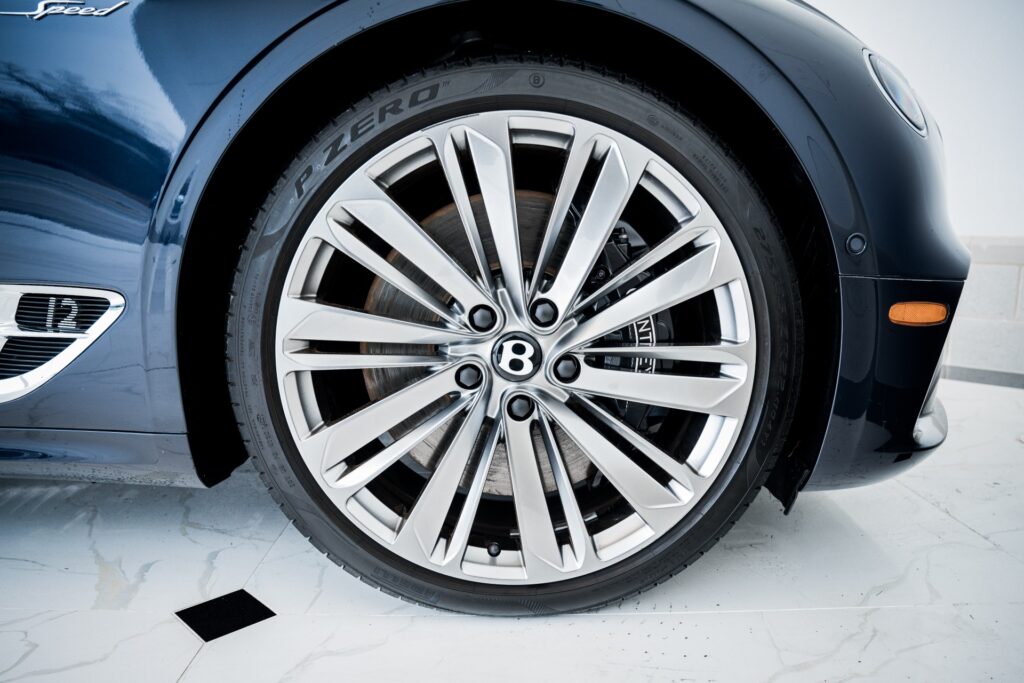 Your ride is guaranteed to be smooth as silk, while its 20-inch alloy wheels deliver superior cornering agility with their lightweight yet sturdy design. Plus, these rims come in various styles, so your car will always look like an expression of self – that's what luxury truly means.
Illuminate The Roads With Warm Led
Step into a world of superior night drives with the Bentley Continental GT Convertible. Its innovative LED headlamps, self-leveling headlights, and daytime running lights ensure optimal clarity for an exceptional driving experience – without sacrificing beauty! Let your ride make a statement like never before by choosing from over 100 exterior colors to style it in true luxury fashion.
Passenger Protection- Safety Specs
Drive confidently in the Bentley Continental GT – an uncompromisingly safe car designed to protect its passengers under any circumstance. Check out the availability of safety features in the car.
Airbags- Mitigating The Headbang
The Bentley Continental GT Convertible is built with safety in mind, featuring advanced airbag technology to rescue the driver and passengers in the event of an accident. Dual front side-mounted airbags provide superior protection for front-seat occupants and feature sensors that detect the size and weight of each passenger. They also feature a passenger airbag occupant sensing deactivation to ensure that the airbag is activated only under certain conditions.
Camera View
For added peace of mind and to stay away from accidents, an optional rearview camera allows you to take a better look when backing up and ensures your safety while navigating tight spaces.
4-Wheel ABS
The Bentley Continental GT Convertible is a powerful and luxurious car designed with safety in mind. At the forefront of its safety features is an advanced four-wheel Anti-lock Braking System (ABS). This system ensures complete control and stability when braking, which can be critical in an emergency. It works by rapidly pulsing the brakes to reduce wheel lockup and maintain traction when stopping quickly. This helps prevent loss of control and ensures the driver remains in control under all conditions.
Convenient Driver Assistance Features – Driving Became Easy
Get the ultimate protection for personal use with advanced driver assistance systems like lane departure warning, rear cross-traffic alert, and pre-collision safety system. Enjoy amenities such as adaptive cruise control, high-pressure washer headlamps, turn signal mirrors, and a remote anti-theft alarm that'll safeguard your Bentley Continental GT at all times. Additionally, be secure, knowing additional child seat anchor points are in place for extra peace of mind when driving with little ones! Safety first? Then let this vehicle provide you maximum comfort on every journey.
Is It Worth Purchasing The 2020 Bentley Continental GT Convertible?
Whether or not the 2020 Bentley Continental GT Convertible is worth getting depends on your personal preferences and needs. Here are a few specialties to consider when deciding whether this car is right for you:
Luxury Car With A Hefty Price Tag
Consider the price when deciding whether or not the 2020 Bentley Continental GT Convertible is worth getting. This luxury car has a hefty price tag; the prices may vary depending on model years, trims, and extra options. Be sure to buy from a trusted dealer with insurance coverage and financing options to get the best value for your money.
Outstanding And Unmatchable Specs And Features
Live life in the lap of luxury with the supremely stylish 2020 Bentley Continental GT Convertible. Featuring extraordinary performance and unparalleled comfort, it's a jaw-dropping beauty that'll make you glad to pay its price tag.
Right Place For Dealing With Luxury Cars!
The 2020 Bentley Continental GT Convertible has been designed with precision and care, from its potent engine to its opulent interior features. Get the beauty of your home with its outstanding safety and driver assistance features. Fulfill your dream with easy financing and discounts from a trusted dealer, the Bentley Washington DC. Our dealership has a vast inventory of convertible models for sale, new and pre-owned Bentley cars with clean vehicle history. Our expert staff is ready to assist you in making the right purchase decision. Buy confidently from us and enjoy great deals with unmatched automotive services like home delivery.